Pedestrian Routes into the Phoenix Park for the Closing Mass of the World Meeting of Families on Sunday 26 August
Closing Mass of the World Meeting of Families on Sunday 26 August
Please note there will be no vehicular or pedestrian access to the Phoenix Park by the public (except ticket holders) from 7pm on Friday, 24th August until 7am on Tuesday, 28th August for operational and security reasons associated with this major event. This is necessary for works to be undertaken, including the installation and removal of essential infrastructure throughout the entire Park and also the removal and re-installation of road signage and other road modifications for the event.
Gates to the Phoenix Park are open for ticket holders on Sunday 26th August at 8am.
For further information please contact Business & Community Liaison team businessandcommunity.papal@opw.ie
A helpline will be operate from Monday 20th August to Monday 27th August inclusive, 9am – 5pm.
Tel. 01 222 8888
Email trafficpapalvisit@dublincity.ie with queries regarding the Dublin traffic management plan for the visit of Pope Francis. This email is manned by An Garda Síochána and Dublin City Council. For information on the plan and more, visit www.garda.ie
Papal Mass Prohibited Items (PDF)
USEFUL LINKS
Overall event information https://www.gov.ie/en/campaigns/pope-in-ireland/
For up-to-date information on Road Closures and Maps - An Garda Síochána
Information on Road Closures - Dublin City Council and Fingal County Council
Public transport and private coaches will bring you closest to the Phoenix Park, shortening your walk.
How to get to the event Public Transport Information
PEDESTRIAN ROUTE MAPS
Designated pedestrian routes have been developed to facilitate safe and effective access and egress of people attending the Closing Mass of the World Meeting of Families in the Phoenix Park on Sunday 26 August.
There is a designated pedestrian route for each gate to the park which is colour coded to match the ticketing system.
Green Route Phibsboro, North City Centre, Arbour Hill, Stoneybatter, etc. (PDF)
(Enter through North Circular Road Gate)
Light Blue Route Thomas Street, Merchants Quay, Inchicore, Islandbridge, etc (PDF)
(Enter through Islandbridge Gate)
Navy Blue Route Ashington, Broombridge, Ratoath, Cabra West, etc. (PDF)
(Enter through Dunard Gate (on Blackhorse Avenue))
Orange Route Bluebell, Ballyfermot, Chapelizod, etc. (PDF)
(Enter through Chapelizod Gate)
Purple Route Ashtown, etc. (PDF)
(Enter through Ashtown Gate)
Red Route Connolly, Busarus, North City Centre, etc. (PDF)
(Enter through City Gate (Main Gate on Parkgate Street))
Yellow Route Navan Road Parkway, Castleknock, Georgian Village, etc. (PDF)
(Enter through Castleknock Gate)
From Monday 30th July the Papal Cross car park and the soccer pavilions car park will be closed to both vehicles and pedestrians.
---
TRANSPORT FOR IRELAND MAPS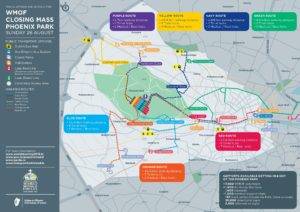 Phoenix Park Map (PDF)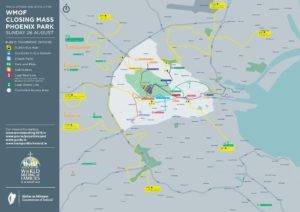 Greater Dublin Area Map (PDF)